Our courses and option blocks
Option Blocks
Students usually select 3 choices from the following option blocks, although some students may choose to study 4 subjects.
The options should each be chosen from a different option block.
Please note that the option block structure is provisional. We reserve the right to amend our course offer at any time.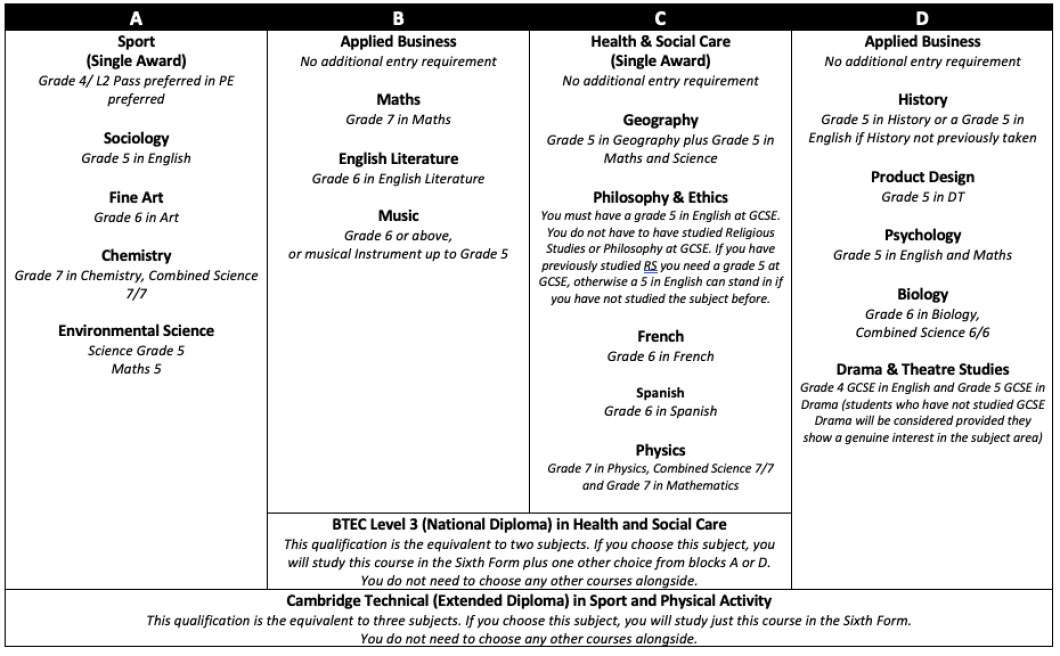 Full course descriptions for each subject can be found on the links below.
Entry requirements
The entry requirement for EWS Sixth Form is 5 passes (Grade 4, Level 2 Pass or equivalent) or above. Please note that some courses have an additional entry criteria, as listed below.
Additional entry criteria
Full course requirements can be found on the links below. A summary is provided here:
 
Entry requirements
Applied Business
No additional entry requirement
Biology
Grade 6 in Biology, (6/6 in Science)
Chemistry
Grade 7 in Chemistry, Combined Science 7/7
Drama & Theatre Studies

Grade 4 GCSE in English and Grade 5 GCSE in Drama (students who have not studied GCSE Drama will be considered provided they show a genuine interest in the subject area)

English Literature
Grade 6 in English Literature
Environmental Science
Science Grade 5, Maths 5
Fine Art
Grade 6 in Art
French
Grade 6 in French
Geography
Grade 5 in Geography plus Grade 5 in Maths and Science
Health & Social Care
No additional entry requirement
History
Grade 5 in History or a Grade 5 in English if History not previously taken
Maths
Grade 7 in Maths
Music
Grade 6 or above, or ability to play a musical instrument up to Grade 5
PE
Grade 4/ L2 Pass preferred in PE preferred
Philosophy & Ethics
You must have a grade 5 in English at GCSE.
You do not have to have studied Religious Studies or Philosophy at GCSE. If you have previously studied RS you need a grade 5 at GCSE, otherwise a 5 in English can stand in if you have not studied the subject before.
Physics
Grade 7 in Physics, Combined Science 7/7 and Grade 7 in Mathematics
Product Design
Grade 5 in DT
Psychology
Grade 5 in English and Maths
Spanish
Grade 6 in Spanish
Sociology
Grade 5 in English
Please note that these entry requirements may be subject to adjustment.
Additional subjects
GCSE English and Mathematics
It is a national requirement that any student without a grade 4 in GCSE in Mathematics or English will have to continue to study these subjects as part of their programme of study until they have achieved the qualification. This may mean your choice of courses will be affected due to this requirement.
Extended Project Qualification
EPQ is an additional qualification which allows each student to embark on a largely self-directed and self motivated project to either compliment or supplement their existing subjects. EPQ is favoured by universities as part of their entrance criteria.
Subject Information