Open Evenings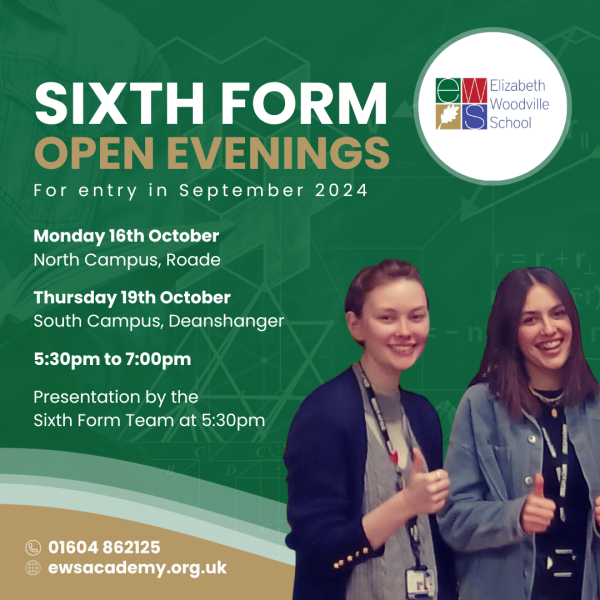 Dear Year 11 Students,
Exciting times are ahead as you approach the significant milestone in your educational journey of choosing your Post 16 options, and we have a special invitation just for you!
We're delighted to invite you to the EWS Sixth Form Open Evening, an event that will provide you with all the information you need to make informed choices about your future.
Here are the details for the Sixth Form Open Evenings:
Dates and Locations:
Monday, 16th October 2023: North Campus, Roade
Thursday, 19th October 2023: South Campus, Deanshanger
Time: 5:30 PM to 7:00 PM
Presentation by the Sixth Form Team: 5:30 PM on each campus
What can you expect at this event?
Meet the Sixth Form Team: Get to know the team who will guide and support you throughout your journey in the Sixth Form. They'll share insights into the various academic and vocational options available, extracurricular activities, and support available to ensure your success.
Chat with Subject Teachers: This is your chance to have one-on-one conversations with subject teachers who can tell you everything you want to know about the subjects and courses you're interested in pursuing.
Explore Your Options: Discover the wide range of subjects, qualifications, and career pathways available at our Sixth Form. This will help you make the best choices for your future.
Remember, you can attend either the North Campus event on October 16th or the South Campus event on October 19th. Whichever one you choose, you'll receive the same warm welcome and valuable information.
We understand that choosing your path after Year 11 is a big decision. That's why we're here to support you every step of the way. The Sixth Form Open Evening is designed to answer your questions and help you see the incredible opportunities that await you.
We can't wait to see you at the EWS Sixth Form Open Evening. If you have any immediate questions or need more information, please don't hesitate to contact me on gavin.martin@ewsacademy.org.uk
Your educational journey is about to get even more exciting, and we're here to make sure it's a success. We look forward to sharing this journey with you.
Mr Martin, Head of Sixth Form
Missed our Open Evenings?
Please do not worry if you have missed our Open Evenings, you can view a copy of the presentation by the Head of Sixth Form, Gavin Martin, here
You can also see our option blocks and subject information here
If you require any additional information you can contact us on gavin.martin@ewsacademy.org.uk