Library
July 2023
Library
"Summer Reads with MyOn"
We are delighted to share with you our free online library for you and your children to access now and throughout the summer.
You can access Fiction, non-fiction books and online news articles on "MyOn" using your devices to enjoy reading wherever you are this summer holiday!
You can access up to 7000 enhanced digital books, plus all the classic literature, including Bronte, Dickens, and Shakespeare, all available to read online for free.
Simply go to https://www.myon.co.uk and enter your login information (login information has been sent via parent mail, note please type in the school name provided it will not allow you to copy/paste).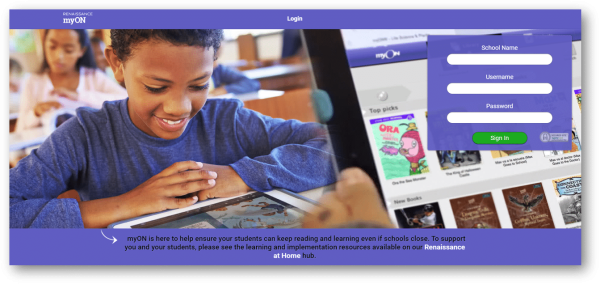 Author Visit
This term we have had the pleasure of hosting a local author called Sue Upton. Sue, who has written her first trilogy called Paper Boats and Butterflies, came into school and worked with a selection of Year 7, Year 8 and Afghan students for a morning on both sites of our school.
Our sessions included looking at the books, writing an opening to our very own story and we even made paper boats. Not to forget that some of the students were specially selected to join Sue in a question-and-answer session where we had the chance to ask Sue lots of questions about writing and her family life. 
Our students asked some lovely questions. 
Omair, 'What is your favourite film?'
Kendra, 'How hard is it to write a book?'
Liam, 'How long did it take to write the books?'
Chloe C, 'What inspired you to write the books?'
Evan, 'Did you make mistakes?'
Sienna, 'What made you want to write?
Chloe C, 'Which one is your favourite?'
'How many attempts did it take to get your book published?'
'Do other people in your family write?'
'Why was Z89 called Z89?' 

Since the sessions with Sue we have had some lovely feedback from all of those involved. 
After the visit some of our students came to the library asking for the first book. One student even told me that she has all three books at home already.
Our students and teachers commented about the session.
It was great, we loved the opportunity to ask questions to an author as it's such an interesting profession. 
"It was really inspiring to meet such a good writer; a helpful experience" - Husna Narobi (Year 7)
"She is a very good writer and I loved meeting her, because I now understand writing as a job much better." - Farzana Safi (Year 11) 
"She was very very good. Her writing is very good and she had some good stories." - Jalil Amiri (Year 8) 
"She is a good, kind woman and I like learning about her job and I want to be a writer" - Asmah Sanger (Year 10) 
"She had a very good message in her book." - Khyber Safi (Year 10)
Our year 7 and 8 students commented that they enjoyed doing something different. They found the character development useful and they enjoyed the Q&A session. 
Year 7 and 8 South said that they all enjoyed the experience and would like to continue reading the books. Students said that they enjoyed their Q&A session and more of them would have liked to have been selected to attend.