News and updates
Parent Governor Vacancies
We currently have vacancies for two parent governors on the governing body. Please see the attachments below for further information.
Parent governor nomination form
Qualifications and disqualifications to serve as school governor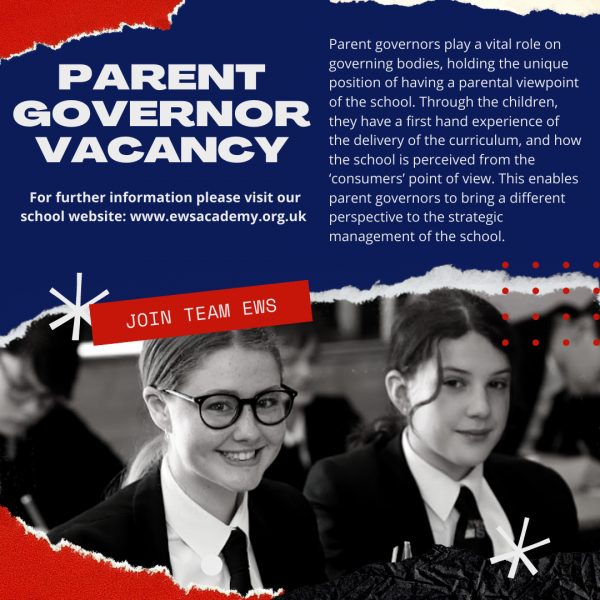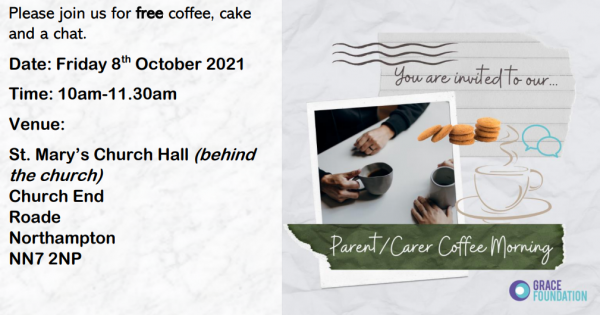 Parent & Carer Coffee Morning
You are invited to our Parent & Carer Coffee Morning
Join us for a free coffee, cake and a chat
Friday 8th October from 10am- 11:30am at St Mary's Church Hall (behind the church), Church End, Roade, Northampton. NN7 2NP
We look forward to seeing you there.
GCSE Results 2021
Year 11 students at Elizabeth Woodville School are celebrating their GCSE grades with the school enjoying a great deal of success across the board, including English, Humanities, Modern Foreign Languages, Religious Studies. We also saw great success in our vocational subjects including Business Studies and Sports Science.
The 'Teacher Assessed Grades' awarded to students this year, in keeping with other schools across the Tove Learning Trust, were based on a wide range 
of evidence and subject to a great deal of scrutiny and rigour. Our students can be very proud of their hard work, resilience and dedication to their studies and richly deserve their success.
We are exceptionally proud of this cohort of Year 11 students who have handled the disruption of the last two years with maturity and resilience and who have continued to drive their learning despite the challenging circumstances. We look forward to welcoming an increased number of our students into EWS Sixth Form in September.  We would like to wish all our students good luck for the future.
Sharan Matharu, Headteacher said "This year's results are a reflection of a culmination of committed and hard-working students, their supportive families and the dedication of the staff in school. Students have worked exceptionally hard to achieve these results and it is a pleasure to celebrate with them. We would like to thank all staff for going above and beyond to ensure our students have had the best possible chances of success. We are so very proud of each and every student. As a result of year on year success, we are delighted to see the Sixth Form grow in number, particularly on our South Campus which has doubled in size year on year."
There are many students with outstanding results this year including; Elise Rackham-De Santis, Katie Huffer, Owen Poole, Elena Fordham, Oliver Gray and Karoline Hollick. Notably Liberty Abbott who achieved ten Grade 9's.
Nital Shah, Head of Year 11 on South Campus said "We want to thank the families for supporting the students and the staff at Elizabeth Woodville School who have worked tirelessly to help the students fulfil their potential. It is wonderful to see so many students continue their studies with us here in the Sixth Form."
Gavin Martin, Head of Sixth Form added "We are looking forward to seeing an increase in our Sixth Form intake this year. We offer a broad range of A Level and Level 3 vocational subjects in our Sixth Form and have a high quality track record for success. The majority of our students post 18 move onto higher education courses, a significant proportion secure high quality apprenticeships with local and national firms or enter directly into the world of work. Students leave the school well rounded, well educated and well equipped to meet the demands of the workplace both now and in the future. We can't wait for this group of students to join us!"
We are delighted to report success in this years A Level and Level 3 vocational results.
This has been a very challenging two year period for all students and the significant disruption to education has been felt most keenly by this cohort of students. EWS has a good track record of academic excellence at A Level and this year, despite the challenges and difficulties faced, is no different. Our students have achieved incredibly well across the full range of A Level and Level 3 qualifications and will continue to do so within their chosen new destinations.
We are continually amazed by the resilience and perseverance shown by our students in what have been very challenging circumstances. We also recognise and wish to thank our parents and carers for their support throughout this period, our staff too who have supported students and families throughout.
Headteacher Sharan Matharu said: 'Our young people should be proud of these results. This success is record breaking in many areas and is a fair reward for the commitment and hard work that the students have demonstrated throughout the Sixth Form. Everyone at the school has worked relentlessly to give our students the greatest chance of success.'
As ever, there were some outstanding individual performances: Malackey Madden achieved an A* in Maths, A* in Geography and A* in Psychology. Amelia Marshall achieved A* in Geography, A* in Psychology and A in Philosophy and Ethics, Grace Monroe secured an A* in Fine Art, A* in English Language and Distinction* in Business. We are proud to report successes across all subjects offered in the Sixth Form, particularly in Maths where 75% of grades were A*-B, English Literature 100% A*-B, in Psychology over a third of students were awarded an A or A* grade and in History over two thirds achieved an A*- B grade. Similarly in the Level 3 vocational qualifications; in Business Studies 83% of students achieved a Distinction or Distinction* grade and in Health and Social Care 75% achieved a Distinction grade.
Gavin Martin, Head of Sixth Form added 'Congratulations to all of the students on their results and we wish them continued success in the future. Students will be leaving EWS to embark on courses at many of the top universities in the country or to take up places on high quality apprenticeships or enter into employment. We wish our students well and are confident that they are on course to succeed at degree level and beyond.'